Burberry Landscapes: The Olympia Bag
Introducing the latest evolution of our awe-inspiring takeover of global landscapes – showcasing the Olympia bag's story of artistic precision and craft. Exaggerated, commanding sculptures transform urban vistas in Dubai and London.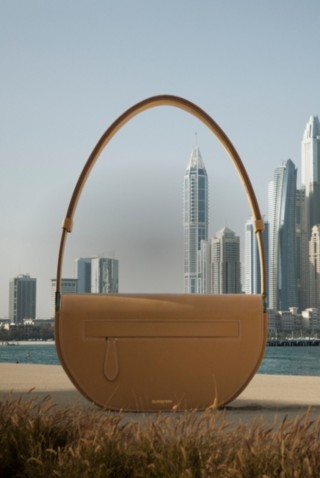 WATCH
Burberry Landscapes: The Olympia Bag
The Olympia takes centre stage as one of our sculptures becomes a jewel in the Dubai skyline – whilst in London, another can be seen travelling down the iconic River Thames.
The Process
Our sculptures began their life in an industrial space as they were shaped, crafted and assembled by local experts. All elements carefully considered to reflect the perfect form of the real Olympia bag by Riccardo Tisci.
The Journey
These exaggerated forms then took to the road, as they were carefully transported by truck to their destinations – winding through the streets of these dynamic cities. Cranes were used to set each in place, with the handles attached on location.
These sculptures are a proclamation of Burberry's future heritage – cast across water and sand. Modern craft and boundary-pushing beauty collide.

THE OLYMPIA BAG COLLECTION