Memories
The Autumn/Winter 2020 Runway Show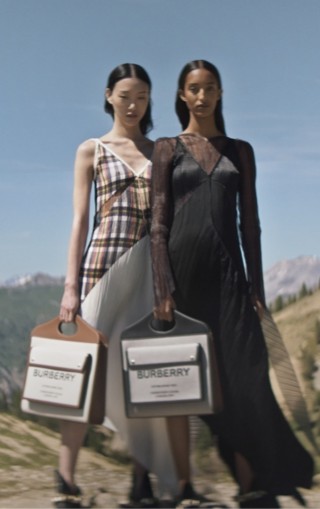 Introducing our new Autumn/Winter 2020 campaign – a celebration of our heritage of exploration, shot against the breathtaking beauty of the natural landscape.
Our spirit of discovery was instilled by our founder Thomas Burberry, who invented gabardine to enable pioneers to explore the outside world and journey into the unknown. We reimagine this for the modern day in a play upon escapism – reimagining past memories and defining future ones.
The collection for women and men continues to build upon our rich heritage and signatures – from new takes on the Burberry check and trench coats to classic tailoring and duffle coats – juxtaposed with modern shapes, prints and fabrics.
The new Olympia bag is introduced into the collection – with a curved silhouette inspired by the architecture of the season's show venue, Olympia London. Shoulder and crossbody iterations feature – crafted in finishes from bold check to timeless leather.
The film is set against the soundtrack of 'Four Movements for Two Pianos' composed by Philip Glass and played by renowned pianists Katia and Marielle Labèque, who also performed the piece live at the Burberry Autumn/Winter 2020 runway show in February 2020.
Art direction and storytelling was led by our Chief Creative Officer Riccardo Tisci, who brought together a team of iconic talent including director Eli Russell Linnetz, photographer Danko Steiner, stylist Ana Steiner, Burberry Global Beauty Director Isamaya Ffrench and hair stylist Gary Gill.
The inimitable cast includes models Mariacarla Boscono, Sora Choi, Maty Fall, Ben Gibson, Tara Halliwell, Izaak Theo and Mona Tougaard. All brought together by their individuality and self-expression.
Titled 'Memories', the collection was inspired by Riccardo Tisci's reflections on his formative years as a young designer and is imbued with references to the places he visited – from London to India – the people he met and the music that informed him at the start of his career.
'This campaign is all about memories and reflections. The collection was inspired by escape and freedom. Recently, I have really reflected upon my memories and of being at one with nature again – a dreamlike journey of another time, another place. Set in an ambiguous location, you could be anywhere – like in a dream you have the freedom to make your journey what you want.
You can draw from old, familiar memories and also adventure to discover new, exciting ones. With the mirroring of the truck you get this sense of reflections through the contrasting elements of the truck's raw, powerful energy with the peaceful beauty of the surrounding nature – a tension of modernity.'
RICCARDO TISCI, CHIEF CREATIVE OFFICER
Take a look behind the scenes and see the shoot through the eyes of our team. Explore the striking landscape, watch exclusive interviews and more.
Discover More